Today's related post on armored vehicles comes from Michael Walker's article of The Hollywood Reporter, where he wrote about Hollywood's new-found love of armored cars. The piece made mention of a couple security service companies like IMS Security and Latvia's Dartz Motorz Co.
If you ask the average person out on the street to name a celebrity who they know owns an armored vehicle, chances are, they'll answer with 'Arnold Schwarzenegger' because of his reputation for being one of the early adopters of the civilian version of the Humvee. Fact of the matter is, there are more celebrities out there other than Schwarzenegger who happen to own an armored vehicle, and you probably might have already seen them but just didn't know it.
Celebrities who have acquired of these armored services include Katy Perry, Charlie Sheen, and rapper T.I. just to name a few. So, how much did they have to shell out to get the armored protection? For starters, New York Knick's J.R. Smith was spotted in a $450,000 Gurkha F5 armored truck.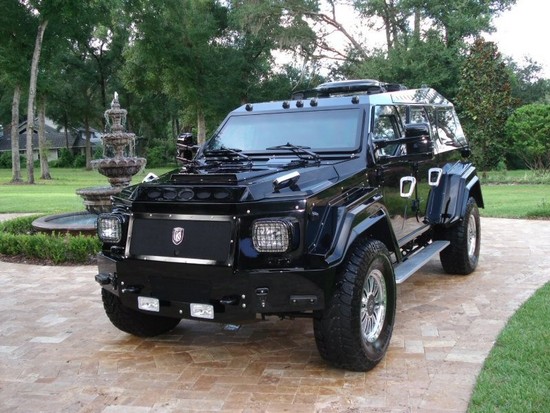 (Image source: balloverall.com)
You can read Michael Walker's full article here.